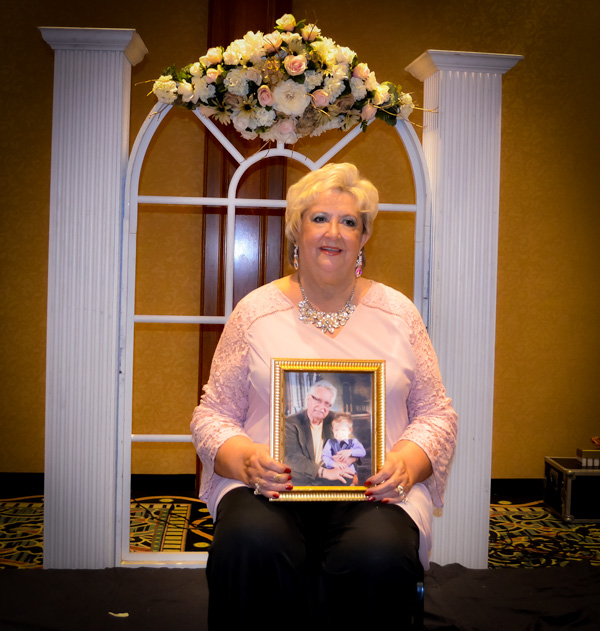 So often I wonder about the passing of time, and how we, as mere mortals, observe it. When I was young, the passing of time felt very different than it does now. I used to think a week never would end. When Mom would wake my brother and me for school on Monday morning, a week seemed like a month, and I just didn't think that Friday would ever come again.
Later, after I was married and had children of my own to wake on an early Monday morning to send off to school, I had become aware of what my mother used to tell me. "The older you get Jetta," she would say as she wagged her finger, "the faster times passes."
Of course, in my infinite wisdom and knowledge as a teenager, I didn't believe a word of it. My goodness was Mom ever right! Now that I am considerably older (never mind how much older) and my children are grown and have children to send off to school, I get up on Monday morning, turn around twice, and the week is over. I look back and think to myself, "Did I get one thing done this week, I needed to, and wherein the world has this week gone?" Sound familiar?
I made that remark to someone once, and they said, "Well, honey, just stop turning around." Unfortunately, that does not help. Turn or not, another week has come and gone, and "It's Time" for yet another chorus of "On the Road Again." For many years, it was – load the bus, lock up the house, oh yeah Paul, "make sure the coffee pot is turned off," and we're on the road once more for parts unknown.
Sometimes I would think "it was time" to stay at home. The trouble with staying home is that we cannot get the job done that the Lord has called us to do, as a family and ministering team. The Bible says the field is ripe unto harvest and the laborers are few. So actually, "It's Time" to go to work, hit the road, hit the ground running, hit the fields, and bring in the harvest.
God's time is always the perfect time. I try so diligently to convey that message to the young people that we meet all across the country. It is, of course, a lesson that we can learn any time in life, but how much grief and heartbreak can be avoided if we can just learn this very basic of God's principles early on.
One on the most important steps we will ever take is to marry. I look back at my life together with Paul, and while I can tell you was not a road without curves, bumps, and a few detours, it was nonetheless God's road for our lives. No one will ever be able to convince me that God did not bring Paul and I together.
I never cease to be amazed at His timing in our lives. Let me tell you just a little about my husband and our family. Paul Roark, my husband, head of our home, and father of our children was born in Harlan County, Kentucky, back during the reign of King Coal. Paul came from the coal fields of eastern Kentucky, and that was how his daddy and all the male members of Paul's family had earned a living and raised their families for generations.
Then the coal ran out, and so did thousands of people. Out of Harlan, and out of Southeast Kentucky most headed north, some to Michigan, some to Indiana and Illinois, a few to Maryland and Pennsylvania, but most to Ohio. Paul's family landed in Dayton, Ohio. There he found me. What a sight we made! A ragged little hillbilly boy, and a tall skinny city girl. It took me forever to convince Paul that yes, one did indeed wear shoes every day, that no, gravy indeed was not a beverage, and most importantly of all, and I think the biggest shock, yes, we did indeed use the bathroom in the house. Paul loved to tell the story of his daddy loading up the old car with all their family, what few belongings they had and heading north to "THE PROMISED LAND." (Paul said they looked like the Beverly Hillbillies leaving Bug Tussle for California.) Much to his regret, Paul was forced to leave his beloved best friend, his faithful dog Rover behind.
However, while walking to school the first day, he looked down the street and remarked to his cousin that this truly must be "THE PROMISED LAND." His cousin asked what in the world he was talking about, and as his little heart pounded in his chest, and Paul gazed in wonder at the first girl he had ever seen wearing shoes, and not chewing tobacco, he cried "Look! Look at that! God has done and sent me something to replace old Rover!" and with those words, Paul met and promptly fell in love with the girl that would grow up to be his wife. Romantic huh? With all that charm, is it any wonder I was just swept off my feet?
Now, I know it sounds silly, especially to the youth of today who seemingly have Christmas nearly every day of the year, but back then, for a refugee family from the poverty-stricken coal camps of Coxton, Kentucky, the mere sight of a place like Dayton, Ohio, with its factories booming, offering good paying jobs, modern schools, and shopping centers, was "THE PROMISED LAND."
You see, it was all in God's time, for Paul's family to come to Dayton, for God to bring us together, and later to bless our marriage and home with children of our own that would one day be the ministering team you know now as "THE ROARKS."
The Roarks traveled in ministry for many years, with Paul being the strong patriarch who guided us in the path God set out for us. What a stark reminder of how temporary our time on this earth is. God took Paul home to heaven on November 4, 2015. As promised, we have carried on the mission we set out as a family to do, singing and taking the Gospel wherever the Lord leads us, in addition to the work at Chapel Valley, supporting the ministry of other artists. Paul loved children very much, and the tradition of blessing the children with Christmas continues each year as we host "Christmas in the Smokies," raising money to provide gifts to children in need.
Well, that, of course, leads me on in the natural progression of things:  our children. Talk about God's time. Let me say quickly that the boys get their talent and good looks from me, and their business sense and stubbornness from their father. (Just ask their wives, darling girls, who agree with me on everything) You believe that, don't you? Good.
Then we still have lots to talk about. The older of the two young men is Travis. Among his many duties, he plays the bass guitar, keeps the rest of the music tracks running, sometimes trying in vain to keep us running along with them, and also shares bus driving and maintenance with his father and brother. Travis is the quiet one. Sometimes he can be around for hours, and we don't know he's there. Those, of course, as you well know, are the ones to be watched. While Travis doesn't always have a lot to say, when he does speak, it's usually profound. He can cut to the chase quicker than almost anyone I know.
Travis is married to a fine young woman named Cheryl. They have two daughters, Cortney and Kaycee. While Cheryl doesn't sing on stage with the group, she is nevertheless a very valuable asset to the smooth operation of the ministry.
Then there is Shane. Unlike his older brother, you always know when Shane is in the room. Much like his father, he is always talking. Not that he rambles or anything, he just seems always to have a lot to say, about almost everything. Shane, of course, sings, plays several instruments, writes many of our songs, and as mentioned earlier, wrestles the bus around with his dad and brother. Shane is an incredible spiritual leaders for his children Maddisen, Makenna, and Branson. 
I have to tell you that I have not always been above questioning God's timing. As many of you know, Travis and Shane were involved in a terrible, near-fatal automobile accident several years ago. We were in Florida for a series of meetings and concerts and made a short trip home one weekend. Since it was just a turnaround trip to come home and take care of some business, we didn't bring the bus.
Paul and I traveled together, and the boys traveled together. Paul and I were on the way back to Florida ahead of the boys. When we got there, the news had already come that the boys had been in a horrible accident. Paul and I caught the first flight to Knoxville, TN. where the boys were in the hospital. My parents and brother were there from Ohio, as well as a friend from Kentucky.
We were all in a state of shock. I know to learn the severity of their injuries. Shane was a mess, his face badly damaged and a leg was broken, they were even talking partial amputation of his leg and plastic surgery on his face. Travis's back was broken, taking 2 to 3 inches of his spine, and would require surgery to place a steel rod and pins in his back. I can't possibly tell you everything here, except to say, that God was indeed in control. We witnessed one miracle after another in that hospital, all in God's time.
While I still find that I sometimes wonder about some things that have happened, I trust God that He is in charge of our lives and He alone knows the time for His will to be completed in our lives. You should have been there the day they brought in the psychiatrist to deal with me. He said, "Mrs. Roark, you have to face the reality that your son Travis is never going to walk again, and that he will never be able to have a family." Well, I had already had just about all of those devil doctors I was going have. Not long before this, I had threatened to throw one of them out the window, and we were on the third floor at the time. I looked him in the face, and with all the faith I could muster, I said, "Doctor, I am dealing with reality. God's reality."
Our son will walk again, and will live to marry, have a family, and lead a normal, productive life". After that, they pretty much left me alone. I thank God every day for our children and grandchildren. Paul and I knew that our sons are both walking miracles and that He held them in the very palm of His hand that terrible night near Knoxville, TN.
The scripture tells in Ecclesiastes that to everything there is a season, to everything a time under God's heaven. There have been many joyous times in our family the past few years and a few sad ones too. We must learn to take them all together and see God's hand in each event. As I have said, the boys have both married and have children of their own.
These are some of the wonderful times. Paul has had to give up both his parents and I, my daddy, not so long ago. These are some of the sad times. While we all know that these dear saints of God have gone on to a better place in the arms of their Lord, it still leaves the hearts of those left behind saddened, and a little empty. But then just as winter gives way to spring, God in His marvelous time replaces the rags of mourning with the garment of praise, and indeed, life does go on. We rejoice and hold close to those we love and thank God that He is in the lead.
After Paul and I had been married a few years, and the boys were growing up, we felt God leading us to move from our home in Ohio to Tennessee. We bought an old run-down farmhouse on the banks of Norris Lake, in East Tennessee. Now let me tell you, that was an adventure. The place had no running water, and it looked for all the world like the place the Clampetts left when they moved to Beverly Hills. Ask the boys sometimes about the bathtub out on the hill or the old outhouse. When my parents came to visit the first time, Mom was just dumbstruck, and Dad, well let's just say that Dad thought Paul and I had both lost all sense, and nearly packed the boys and me back off to Ohio.
However, over the years, with a lot of hard work and patience, we turned the old place into a lovely, comfortable home. Sometimes, I sit and look down through the valley towards the lake and think how God's timing was at work in our lives yet again. We are right where we need to be. The boys and their families each have homes on the property, so we are close enough to be together when we want, with enough distance to maintain peace and privacy.
Besides, with them this close, I get to see those grandchildren every day. We were always careful not to indulge the grandchildren or spoil them, and we never contradict their parents in any way. You believe that one, don't you? If you do, you've never been acquainted with a grandparent.
Sometimes God led Paul to do things that I was not always sure of at first. In fact, sometimes, I would flat out think "he's lost it." The Lord has been very good to us as a group. He blessed us with a new bus: a beautiful Silver Eagle that is larger than the standard size, and therefore, a welcome addition to our ever-growing family. When we found that we were going to get the new bus, Paul promptly announces that the Lord had directed him to give our old bus away. Now let me tell you, the old bus, a Silver Eagle also, was still a fine vehicle, and worth several thousand dollars. This had been no small investment.
Nevertheless, Paul said he had heard from the Lord and that we were to give our old bus to another ministry. Sometimes I would think, "Paul, what are you doing?" But God blessed us and will continue to because my husband was in tune with the Holy Spirit. I thank God for that.
Life is different now. In fact, the only certain things in life are God's promises, and change is a part of His plan. We all miss Paul dearly. It will never be the same without our strong patriarch, but we have peace in knowing that this world is not our home. We will be reunited in the presence of our Lord and Savior, so until that day comes, we will continue to carry out the vision God gave him for The Roarks, and we will use our gifts to glorify Him in all that we do!